Blogi - Grano — 2.05.2023 — min read time
500 savonlinja buses given a new appearance
Savonlinja is part of the national landscape of Finland, and the Finland-themed graphics depict Savonlinja's 100-year-long journey through Finland. Nowhere is the company's updated image reflected more strongly than in the appearance of the buses themselves. Thanks to their impressive Finland-themed decals, Savonlinja buses are now more visible than ever.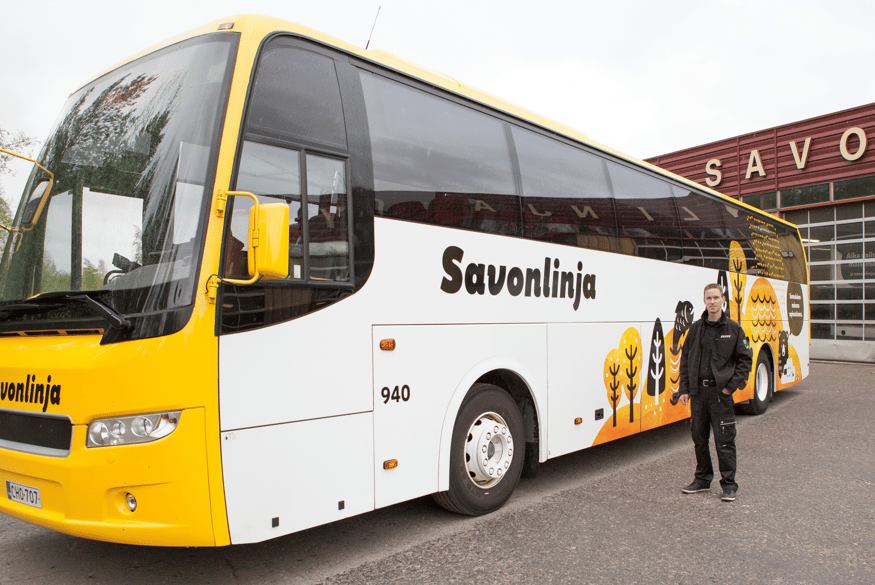 "We usually decorate approximately three buses a week," says Maintenance Manager Arto Ursin from Savonlinja. The application of the decals has been scheduled so that only one bus from each locality is being worked on at a time. The new Finland-themed appearance is the result of Savonlinja's brand development process.
"The feedback has been 100% positive," states Arto Ursin, referring to the Savonlinja's new image. The new look was designed by brand and marketing agency Nitro ID. Before the application of the decals, the front, back and roof of the buses are painted yellow. Older buses retain their white colour, but are also fixed up and painted as necessary. After painting, the decals are applied in the same facility.
"We've arranged the painting and the application of the decals so that each bus is ready in a week," says Ursin. In addition to Savonlinja's own depot, decals have been applied in Mikkeli, Villähde, Joutseno, Juankoski and Juva.
Re-branding an entire fleet
The project has gotten off to a good start, and the collaboration with Grano has proceeded smoothly.
"The end-result is very good, and the feedback has been 100% positive," thanks Ursin. There's still plenty of work to do, however, as Savonlija has a lot of vehicles. The company's fleet is also constantly being renewed, while old vehicles are decommissioned.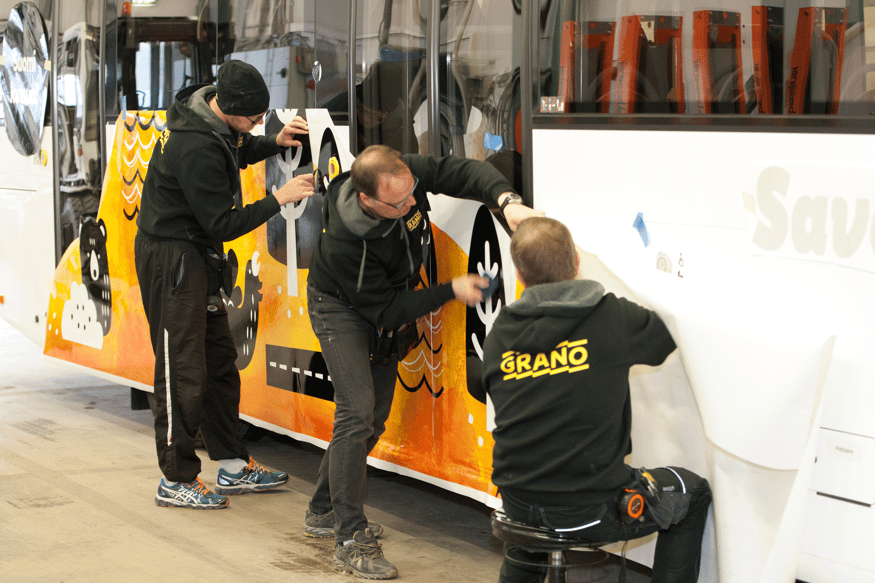 Application of decals and stickers made easy
At Grano, the application of vehicle decals and stickers is always scheduled based on the client's wishes. If necessary, decals and stickers can also be applied on short notice, even at night.
"Since each vehicle usually undergoes individual preparation at the paint shop before decals and stickers are applied, we usually know well in advance when we'll be working on each of them," says Account Manager Simo Lehti from Grano. The actual application of decals and stickers usually takes from half a day to one full day.
"We can also apply decals and stickers to several vehicles a day by increasing the number of people working on the vehicles or applying decals at several locations at the same time," explains Lehti. Producing the decals and stickers themselves is quick thanks to Grano's massive production capacity. In addition to the make of the vehicle, other things to consider include the number of shafts, hatches and doors and their locations, which need to be taken into consideration so that notable graphical elements don't end up overlapping with the wheels, for example.