Referenssit - Grano — 3.01.2022 — min read time
A partnership spanning nearly a decade – BioRex has grown together with Grano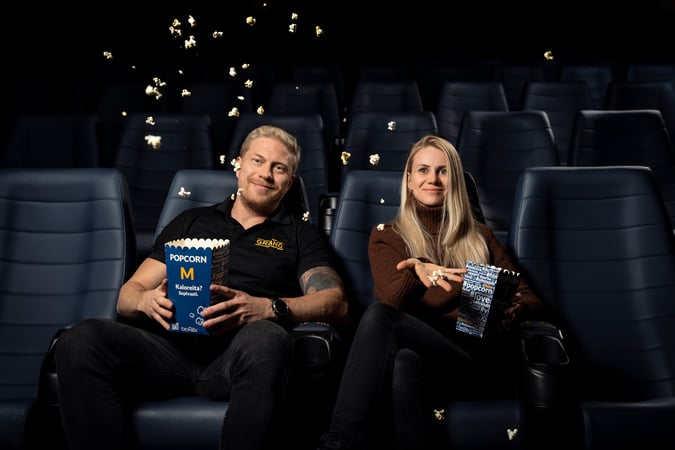 Cinema chain BioRex has been working together with Grano for a long time. Originally established to fulfil minor needs, the partnership has since expanded to cover a wide variety of needs over the years as the chain has continued to grow. Grano has helped BioRex grow into one of Finland's most notable cinema chains.

BioRex is a cinema chain owned by the Swedish Svenska Bio that operates in several cities in Finland. Grano and BioRex have been working together for almost ten years now, during which time both companies have greatly expanded their operations.
But where did it all begin? We interviewed BioRex Marketing Manager Tanja Holster, who has been receiving assistance from Grano for the company's marketing needs from back when the chain was still just a small operation.
– Our partnership began with simple print products, such as posters, and expanded over time as our growth gave rise to new needs. BioRex grew steadily, opening one or even two new cinemas every year, Holster explains, adding that at the start of the partnership, BioRex operated three cinemas in Finland.
Today, BioRex operates cinemas in 11 different cities in Finland, with the latest additions being BioRex Tripla, which opened in 2021, and BioRex Redi, which opened in 2022, both in Helsinki.
Concurrent growth based on diverse needs
A modern cinema chain naturally has a wide range of needs, from small print products to large visual surfaces and illuminated advertisements. A such, Grano has supplied BioRex with a variety of different products over the years, such as stickers, decals, signs, giant banners, wallpapers, window decals, points of sale and illuminated advertisements for both indoor and outdoor use, as well as a host of smaller print products, such as film ticket rolls and various types of ticket and gift card holders.
– Our long-term partnership has continued to grow alongside BioRex's expansion, and we have supplied them with a wide range of products. We have established a strong mutual trust with BioRex over the years, and I feel that our partnership works very smoothly, says Key Account Manager Miika Piikkilä from Grano.
Holster points out that Grano has also grown into a more versatile operator during the partnership:
– They are no longer just a printing house, as nowadays they offer a wide variety of other products and services as well.
In addition to various visual implementations, Grano has also provided various other services to BioRex, including translation services, with Holster hinting that the range of services procured might be expanding in the future.
Holster says that as the BioRex chain has continued to grow, their needs have also changed. For example, their various campaigns have also gotten bigger, resulting in more diverse needs. Holster is pleased that they have not needed to look for new suppliers even for more specialised needs.
– Even with new and unusual needs, we have always asked Grano for help first. In many cases, they have replied by saying 'Yes, we can handle this for you too!'
Holster praises Grano for their versatility, which has also contributed to the organic expansion of the partnership.
– Nowadays we always ask Grano first, as it is easy to utilise a partner who is already familiar with our needs. Not having to look for a dedicated specialist for every little thing also saves a great deal of time, Holster says, citing the acrylic signs that BioRex needed recently as an example.
– Grano's broad range of services and large product portfolio are a really big deal for us
Holster says Grano's range of services has saved her a great deal of time.
– Grano's broad range of services and large product portfolio are a really big deal for us. At times, our campaign planning schedules are also very tight. Grano's quick response times and ability to react are also things that we have always been very pleased with, she praises.
In Holster's opinion, having worked so long together with Piikkilä has also made their communication easy and relaxed.
"Even if I don't always know all the specialised terms, I feel like I am understood."
"Sometimes I only have a vague idea of a product, which I then describe to Miika: for this kind of a purpose, of such material and it should invoke this kind of feeling. In return, I quickly get a proposal for a final product, and so far we have always been pleased with the results," Holster praises.
Communication with other Grano personnel has also been easy.
– For example, whenever I've been in contact with Grano's production department, it has been really nice to note that they are always very meticulous with the material. They will also proactively inquire about things like the quantities of products changing from before, Holster says.
In the end, Holster summarises the service that she has received from Grano in two words: accommodating and proactive.
– Even if I don't always know all the specialised terms, I feel like I am understood. Tanja Holster, Marketing Manager at BioRex
The article was originally published on 3.01.2022 and has been updated on 2.05.2023.