References - Grano — 27.06.2023 — min read time
Bosch values Grano's strong customer orientation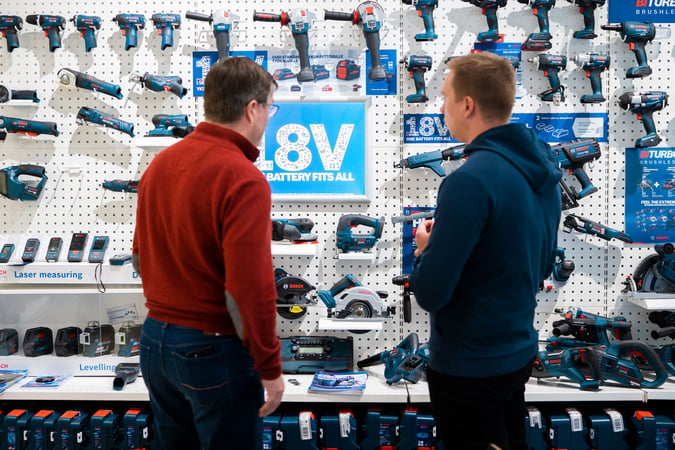 Bosch is a brand that almost everyone knows. The German conglomerate operates under the name Robert Bosch Oy in Finland. Grano has been their partner for more than 10 years. The cooperation is based on trust and convenience.
Bosch's main lines of business are subcontracting for the vehicle industry, manufacturing of commodities, industrial and construction technology and packaging technology. For many of us, the most familiar Bosch products are various electrical equipment and tools. As a brand, Bosch is particularly known for its innovativeness.
– Innovation is by far our greatest asset, says Marketing Manager Pasi Kivimaa for consumer products in the power tools sector at Bosch.
Long-standing cooperation based on convenience
Bosch has been working together with Grano for a long time. It all began in 2007 with the production of training materials. The cooperation has expanded over the years and currently Grano supplies Bosch with all the necessary store materials, brochures and product cards, among other things.
– We started with small projects, and since then the cooperation has expanded because it has been so easy. Bosch has also grown during this period and our activities and needs have expanded simultaneously with Grano, Marketing Manager for Bosch's professional products Janne Seppänen recalls.
Grano's service concept covers much more than the actual materials. Bosch also uses Grano's mailing, storage and translation services. Orders can be made conveniently and directly via the My Grano ordering channel, which enables not only the commissioning of materials but also their management, editing and personalisation.
– My Grano has been a good service. We are able to order all the necessary print jobs directly from there when we need them, Janne says.
– The best thing about Grano is convenience. Grano is a one-stop shop for everything we need. Their service concept is so comprehensive, Janne continues.
A common language creates understanding
We have completed many different projects over the years. Sometimes materials have been needed very quickly and Grano's flexibility has been put to the test.
– We often need products on short notice for trade fairs, for example. Grano has been able to meet our demands flexibly and quickly despite the fact that they are a major player. They deserve praise for that, Pasi says.
Pasi and Janne highlight customer orientation as one of the key elements of smooth cooperation. They have been very satisfied with their contact person, who is easily available and immediately knows what the customer needs. A common language makes communication easy and helps ensure that the final product is exactly what was needed.
– We know each other so well that cooperation is really easy. We can speak in our own jargon, and they will immediately understand what we need. It is often enough that we are able to describe our needs to a degree, and they are able to catch on to our meaning, Janne says with a smile.
Best end results through dialogue
The best possible outcome is often the result of working together. In fact, Bosch has particularly appreciated the fact that experts from Grano have also actively shared their ideas, insights and development proposals.
– If we have proposed an idea, we have been able to further develop it together. Grano also has command of all the latest trends in the field, and they can make them quickly available to us, Pasi says.
– Thus far, Grano has succeeded every time and often even exceeded expectations. It's been fantastic, Pasi concludes.