References - Grano — 27.06.2023 — min read time
Grano helped Kymen Vesi Oy digitise important documentation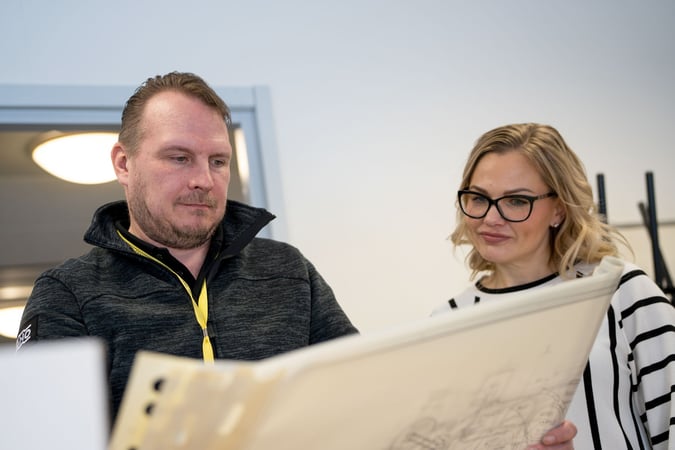 Kymen Vesi Oy needed a reliable partner for digitising and electronically archiving all of the company's important materials, documents that needed to be stored according to law and critical materials in terms of business activities. Grano stepped up and provided Kymen Vesi with a custom-built functional SokoPro portal that allows for fast access to information regardless of location.
Kymen Vesi Oy provides water supply services in Kymenlaakso. Kymen Vesi manages the clean water supply, water quality, the correct direction of stormwater to the water system as well as the responsible treatment of wastewater in its operating area. The company employs approximately 60 people.
Kaisa Jyrälä is the financial manager at Kymen Vesi. She has worked at Kymen Vesi Oy for nearly a decade in various financial and administrative roles.
Sini Latvela is the office secretary at Kymen Vesi. She started her career as an intern at Kymen Vesi when she was still finishing her studies. After her internship, she stayed on as a project worker and was tasked with archiving and archive management. Today, she works as an office secretary on a permanent basis.
Cooperation between Grano and Kymen Vesi started with digitising documents
The collaboration with Grano was started in 2019–2020. Grano's Key Account Manager Janne Partanen says that digitising ensured the data security of a large batch of material.
– We worked on a large range of different types of documents, countless connection agreements and technical documentation. We ensured that this information would never be lost by digitising the material, Janne says.
– We wanted everything to be done carefully and reliably while assuring data protection, data security and material integrity. We wanted to work with a local partner to avoid having to send our material anywhere far and to have access to it quickly, if needed. We also hoped for being able to work on the project little by little instead of having to package up our entire archive at once. In other words, the project was not on a very tight schedule. We also valued efficient cooperation and communications, Kaisa and Sini say about the initial stages of the project.
– We needed to digitise our documentation due to accessibility. Kymen Vesi has employees in various offices, meaning that they need access to the necessary materials from anywhere, they add.
– We were able to implement digitisation without damaging the original material, both say.
Grano used text recognition and recorded various search and index data that the SokoPro portal supports in connection with the digitisation process.
– The data is now easily accessible with the search function, they add.
SokoPro a crucial part of the project
Kymen Vesi decided to use the SokoPro 2.0 portal where Grano imported all of the digitised information. SokoPro was tailored to Kymen Vesi's wishes to make it as easy to use as possible and lend it a company look.
Meeting invitations, minutes and investment decisions were also recorded in the portal. In addition to this, so-called born-digital agreements will not end up separated from other electronic materials going forward. The entity now functions in the way intended by Kymen Vesi.
SokoPro can also be used to carry out competitive tendering concerning larger procurements by Kymen Vesi.
Archiving and digitisation made information accessible
According to Kaisa and Sini, the greatest benefit offered by archiving and digitisation was accessibility, especially as remote work has been on the increase in the company. They praise Grano for the success of the project and implementing everything in a reliable and secure manner:
– The materials were carefully scanned and returned on time. The employees in charge of scanning were quick to report any anomalies discovered, such as empty folders and the like. Communications with Grano worked effortlessly.
Finally, Kaisa and Sini say that they would recommend Grano as a partner for similar work:
– Grano was meticulous in ensuring they knew what we needed and meeting our demands.