References - Grano — 28.08.2022 — min read time
Grano implemented a new look for Varuste.net's store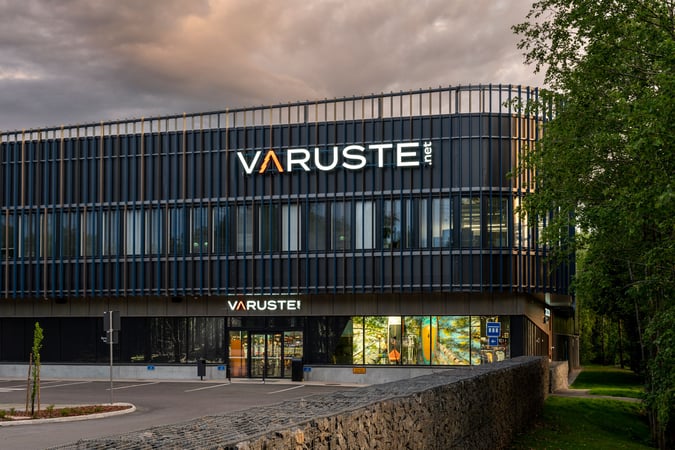 Outdoor recreation equipment retailer Varuste.net has grown from a brick-and-mortar store based in Töölö, a residential district of Helsinki, into one of the giants of its industry. Gigantic is also an apt word to describe their newly built store, warehouse and office premises in Konala, Helsinki, for which Grano provided all the visual surfaces and illuminated advertisements.
Varuste.net is a Finnish company established in 2004 that sells outdoor recreational equipment. In the past 18 years, the company has grown from a small store occupying a cellar in Töölö into a major player in its industry. In autumn 2021, Varuste.net moved into a spectacular new building in Konala, Helsinki, which now houses their store, webshop and warehouse.
Brand Manager Nina Pennanen has been working for Varuste.net since 2011. She explains that the partnership with Grano started with traditional competitive tendering. During the construction of the new building, Varuste.net updated its brand visuals and needed a capable partner to implement the new look in practice.
– The brand renewal included a new logo, as a result of which we needed illuminated advertisements for the new building. So we proceeded to look into who makes illuminated advertisements and at what prices. It has to be said that Grano provided a very consummate response, detailing what everything would cost and how the products would be delivered. This made the choice very easy, Pennanen says about the first steps in the successful partnership between Varuste.net and Grano.
Shortly after installing the illuminated advertisements, Grano contacted Pennanen to ask what else the company might need for their new premises and store.
– Well now that you mention it: everything! Pennanen replied with a laugh.
Grano ended up supplying Varuste.net's extensive new store with a wide variety of visual surfaces and signs, which are, of course, essential for such a varied store environment. The spectacular nature-themed surfaces are visible both inside the store and outside of it. In addition to the store, Grano also supplied visual surfaces for the warehouse to create a more pleasing work environment for employees.
– And there is a lot more that we are currently planning and working on. Right now we are implementing new signs for the fitting rooms and planning interior decorations for the offices, explains Key Account Manager Maija Hirvonen from Grano.
Grano plays an important role in idea generation
According to Maija Hirvonen, Grano does its best to provide Varuste.net with assistance on ideas for store spaces and technical solutions. Varuste.net has also used solutions in its store that are not traditionally seen in retail spaces.
As examples, Hirvonen mentions cardboard swans hung from the ceiling and other hanging decorations suitable for different themes.
– It has been great to see our ideas so openly embraced, Hirvonen comments on the collaboration with Varuste.net.
Hirvonen's sentiment is shared by Nina Pennanen, who also praises Grano for the wealth of ideas that they offer.
– Grano provides recommendations and ideas that I might never have thought about myself. Because of this, our cooperation has always worked smoothly. Grano proposes solutions, and together we see which of them fit our budget, Pennanen says.
– It is really nice to have a partner who has extensive experience in store design and signage. Varuste.net's aim is for people to find inspiration in our store – and the products that they want, of course, she adds.
– These people know what we need.
Nina Pennanen says that she did not know much about Grano when she first started the tendering procedure for the visual surfaces of Varuste.net's new building. The situation was also challenging because the new building was still under construction at the time, with many things only existing as plans on paper or a computer screen.
– Sending out enquiries about things that you are not quite sure about yourself is very stressful, Pennanen says.
– Grano provided me with answers to questions that I had not even thought to ask yet. When you get the feeling that the other party knows what we need, continuing the discussion becomes easy. You end up feeling that these are the kind of people I want to work with.
Pennanen says that it did not take long for Varuste.net to realise Grano's size, wealth of ideas and versatility.
– No joke, these guys know what they're doing, she remembers thinking, adding that she appreciates a partnership that leaves room to tossing ideas back and forth.
– Some of the things needed for the store may not even exist yet, but they can be created, she summarises.
Varuste.net's premises are full of visual surfaces
Varuste.net's store is full of signs and decorations implemented by Grano. In addition to traditional hanging signs denoting different sections, the walls behind Varuste.net's checkout desks are adorned with large illuminated surfaces featuring impressive nature photographs. The checkout desks themselves also follow the same theme, as do the display windows, some of which feature background-illuminated fabrics in lieu of traditional decals. When it is dark, the glow of the large window fabrics extends quite a ways from the store itself.
In addition to the store, Varuste.net has also put a great deal of effort into providing a pleasant workplace for its employees by decorating its warehouse with gigantic printed surfaces. The company is also currently working with Grano on a project to decorate its office spaces.
The partnership established by Maija Hirvonen was later transferred under the commerce sector cluster at Grano. As a result, Varuste.net's services are nowadays overseen by Key Account Manager Nina Koski.
According to Nina Pennanen, the change of contact person was also carried out smoothly, in addition to which she praises Grano for their great customer service.
– The enquiries we send to Grano are always responded to by skilled people who really get things done. When the contact person changes, or when a specific specialist is assigned to a project, I always get the impression that the new people are integrated into the group well, Pennanen says, adding that good personal chemistry is also very important.
– I am always surrounded by a capable team. That feels good, because these things are all about doing things together with other people. Grano is familiar with the commerce sector, and I never have to explain to them why we need to establish a certain kind of atmosphere at the store or what it is like. They already know.
"A large, well-coordinated company"
According to Nina Pennanen, Grano is a large, versatile and well-coordinated company. She says she appreciates being able to contact specific contact persons and the fact that when you do, things start happening right away.
– Grano searches its internal divisions for the necessary know-how and specialists. The only thing I need to do is call Maija or Nina, and next thing you know the fitters and lifts are already here – and soon the pictures are on the wall, too, Pennanen says.
– The benefit of a large company is that when things start happening, they really start happening. Things start being delivered, and if projects ever get delayed, it is certainly not because of Grano.
In Pennanen's opinion, praise and positive feedback are far too rarely given out, which is why she would like to thank Grano.
– I would like to thank them for our successful partnership and for taking the time to familiarise themselves and understand our business. That has been the key to allowing us to create the kind of look for our premises that we wanted, Nina Pennanen praises at the end of the interview.
– I am always surrounded by a capable team. That feels good, because these things are all about doing things together with other people.
Nina Pennanen
Brand Manager, Varuste.net
The article was originally published on 28.08.2022 and has been updated on 2.05.2023.