Blog - Grano — 22.05.2020 — min read time
Grano licensed its PPE expertise abroad and started mass production of medical gowns in Finland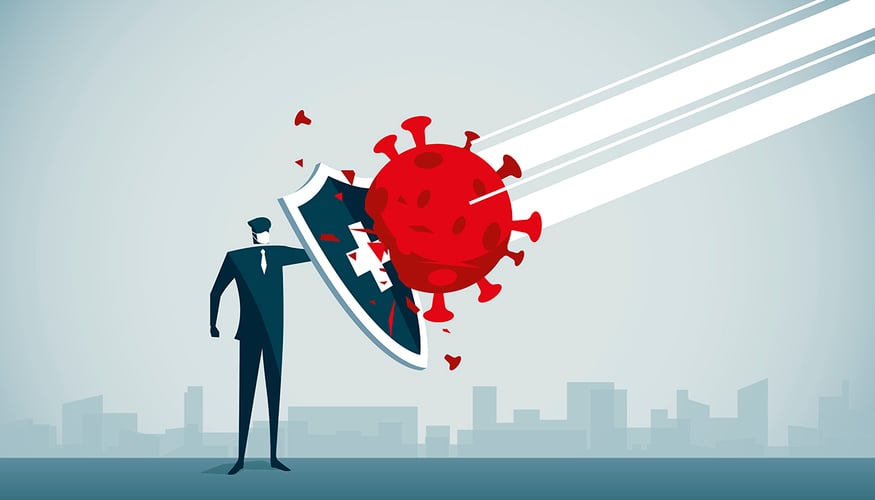 Finnish marketing communications production company Grano will start exporting its expertise in manufacturing personal protective equipment required for caring for patients with COVID-19 utilising a licensing model. Product development has already led to first orders in Finland and the start of production at a rate of 100,000 units per week.
Grano Oy has developed and patented the first Finnish product design and production model for long-sleeved breathable medical gowns, which are vital in caring for patients with COVID-19, and made first deliveries to customers in Finland.
The design and production model of the breathable medical gown is sold as a ready-made licensing package, which marketing communications production companies or printers anywhere in the world can use to start producing these vital items immediately. The model creates a basis for manufacturing PPE quickly and efficiently in the future, as well.
"Personal protective equipment, such as the breathable medical gown, are in dire demand in health care around the world due to the coronavirus pandemic. Finnish hospitals alone require more than 100,000 gowns a day. Our license provides production facilities and printers a ready-made production model for manufacturing a tested piece of PPE and enables starting and expanding production quickly," says Grano's Managing Director Pekka Mettälä.
Grano has developed the product and the production model in cooperation with the Ministry of Economic Affairs and Employment's project to promote Finnish manufacture of PPE and VTT Technical Research Centre of Finland Ltd. The model was created quickly as the result of agile product development, and the next step for Grano is to start selling the license to production companies and printers in Finland and the Nordic countries.
"We quickly started mapping our options in terms of developing and producing PPE for Finnish hospitals right at the beginning of the coronavirus epidemic. We worked nearly around the clock to help Finnish health care providers in this difficult situation. After developing the medical gown, we created the production licensing model and are now in the process of locating customers and cooperation partners in Finland and the Nordics," says Jani Ojanen, director of large format printing at Grano.
This development work has already led to first orders being placed in Finland. The names of the customers cannot be made public as of yet. Grano is able to produce a total of 100,000 medical gowns per week in its facilities in Helsinki, Vantaa, Kuopio and Jyväskylä. The gowns will be made from coated, breathable non-woven fabric supplied by Walki Group. The fabric is tested and certified by SGS Fimko. The fabric used for the medical gowns must be breathable to make wearing the gown more comfortable.
"COVID-19 patients cannot be cared for without proper PPE, and quick domestic production of PPE at a reasonable price is very important. Finnish health care cannot rely solely on foreign suppliers," says Grano's Managing Director Mettälä.
The start of the PPE production has enabled Grano to cancel some of its upcoming temporary lay-offs. Furthermore, Grano and its subcontractor chain may be able to increase production, which would create new jobs.
"Everyone at Grano has a strong will to help Finland and its businesses and citizens to overcome this exceptional situation. We have the most units suited to medical gown production in Finland, and we have been able to re-organise our product development and production very quickly to meet the national need. It feels very good to be able to help health care professionals who are doing their best to care for Finns," Pekka Mettälä says.
Additional information
Pekka Mettälä
Managing Director, Grano Oy
+358 (0)40 504 2019
pekka.mettala@grano.fi
linkedin.com/in/pekkamettala
The article was originally published on 22.05.2020 and has been updated on 2.05.2023.